Joined

Aug 17, 2020
Messages

5
Dear professionals, (Edited and revised question)
Recently, we have integrated a new workshop's regular air compressor (45gallons, 5hp/ Showed below) in engraving setup by considering future air requirements. We have added filters (oil/ moister) and regulate air pressure. Air is regulated between 40 to 60 Psi toward the handpiece.
My question is why the piston of handpiece is not coming back after the application of said pressure.?
would I need to modify the system or shall follow different pressures on this system? Or any suggestion please. (Below actual equipment are illustrated for a better understanding of the installed system).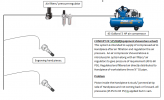 Last edited: