Bonjour à tous, hi dear engravers
The early barrels were made using thin layers of iron wrapped around a mandrel and then forged.
Here is a video of Belgian blacksmiths forging Damascus barrels near Liège around 1920.
Later the barrel were made out of plain steel and the bore was machined. There was no more Damascus pattern, but on some top guns they engraved a fake Damascus pattern like this gun made in early 20th century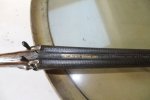 This Damascus pattern was etched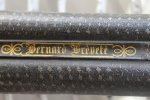 I got a try for Damascus engraving on this small pistol;


I used a liner cutting 6 grooves (3mm width) and à square V for cutting the pattern of the twisted Damascus.
Some little scrolls and "bouquet" ornate the lock

It's not really hard, just boring to cut this repetitive design
I made a video while engraving it andhope you'll enjoy watching