Joined

Mar 21, 2007
Messages

239
Location
Dmitry asked for this.
Hope you will like it too. Nothing to do with engraving though
Mokume gane can be made with most metals though mokume gane tends to use the non ferric ones.
I am sure you have seen better and nicer rings somewhere else, but this is just a simple way to make rings like this and if you don't want to make rings you can make a nice material for bolsters or other things to make you product more special.
Mokume Gane wedding bands with 3 colours gold and silver.
This is going to be a pretty long story. A lot of work to with a lot of steps.
I have to make 2 mokume wedding rings with 18 yellow, 14 red and white gold and silver.
3 Pieces of octagonal 3mm and 50mm long in gold are bought.
These pieces have been milled flat to 5mm wide and 2 thick. After making them fat and oxide free ( by using waterproof sandpaper under the tap) I have bound them together with titanium wire for the first fusion or weld.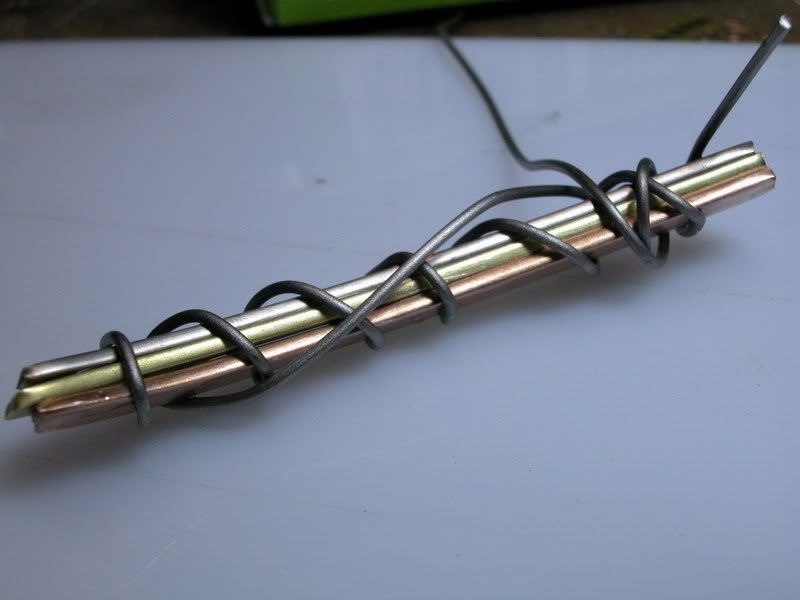 The titanium wire is mostly to bind the package together when the borax settles. A screw clamp could be used as well.
When the package is red hot sometimes squeezing with a pincer helps to get the layers together. When all the layers are together and the package is hot enough you can see a glimmer between the layers just as when solder is running. Take your flame away and wait until the glimmers go dull. Then quench in water.