:::Pledge Member:::
::::Pledge Member::::
Joined

Nov 10, 2006
Messages

407
Location
I have been researching issues about removing barrels from the new production Colt Pythons for engraving. I have always pulled Python barrels, it makes the engraving job so much easier! I had read somewhere that there was a technical issue about removing barrels from the new generation Pythons. To confirm, I first called John Powers (Powers Metal Works).
John called the Colt Custom Shop - one of their engravers told him that they engraved Colt Pythons with the barrels on.
I then called Emily Cusson (Nutmeg Sports LLC). Nutmeg has had a working relationship with Colt for many years, so Emily also questioned Colt about the subject. Here is Emily's reply to me.
"I did some research on the Python bbl situation. It's definitely not recommended to remove the bbl once the new Pythons have been assembled. It is considered a permanent assembly. According to Colt, the custom shop is engraving the pythons with the barrels installed. What they have found is that the threads will be destroyed if you try to remove the barrel.
"
So, for whatever reason - mayber Colt installs the new Pythons mechanically with such pressure that the threads become frozen, they seize or become galled. Perhaps, they use some kind of exotic adhesive to permanently fix the barrels to the frames?
It's unfortunate that this is the case. So, plan to engrave the new gen Pythons with the barrels on. I would challenge any engraver to cut a Python with the barrel on, old or new, at the Exhibition level like this one I finished in 2016. I'm not going to say it would be absolutley impossible, but I wouldn't try it!!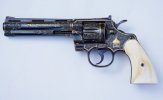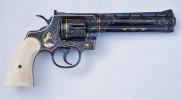 Last edited: