~ Elite 1000 Member ~
::::Pledge Member::::
Joined

Jan 31, 2007
Messages

2,285
The late Frank Hendricks was a very well know Texas engraver as well as the first president of FEGA. One of his sayings was that there were two steps to gun engraving...drawing what you want to engrave on the gun...and cutting what you draw.
I polish the metal to a worn 600 grit w/d and draw very lightly with a fine scribe using the side of the point to burnish off lines needing correction. The photo is a bit hard to see but under good lighting on the bench the design shows up very well.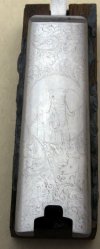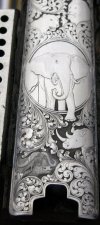 Here is an example on my latest project...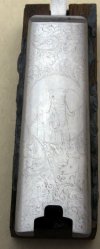 And the real fun is watching the design come to life as it emerges from the steel!