:::Pledge Member:::
::::Pledge Member::::
Joined

Nov 10, 2006
Messages

415
Location
This Buffalo Bill Colt is a re-creation of an original presented to Col. W. F. Cody as gift from his publisher, The J&H Mayer Company of New York in 1895. In addition to published articles, Mayer was the company that produced many of the original art porters and advertising for the Buffalo Bill Wild West Shows. Although the original Factory Letter resides in the colt Archives, the actual gun has been lost to history. My client asked me to re-create it from the specifications on the Factory Letter.
First, we found a Colt Bisley produced in the same general time period and in good enough condition to serve as the base firearm for project. However, the original was a Flattop Targe Model in .44 Russian (S&W Caliber - a very, very rare Colt. The costs of finding and purchasing a Colt Flattop 7 1/2" in .44 Russian would have been costly. Furthermore, if we had found a matching base, it would not have been prudent to engrave any such a valuable and collectable 1st Gen. Colt Flattop as a replica.
John Powers took on the job of re-creating the base Colt into the correct configuration for the project. When John had finished his Work I did the engraving and gold inlay to match the specs of the 1895 Factory Letter. Monarch Plating plated the cylinder gold and John finished the gun in Charcoal Blue with a Case Colored Hammer...all done to match the original. Eagle Grips fitted the white Pearl grips.
Jim Hasson (Hasson Cases, Apache Junction, AZ) has created an outstanding Presentation Case. The brass case plates and case hardware shown on the Buffalo Bill Poster art were engraved by me for the case - the oval Buffalo goes on the lid and the Master Plate will be placed on a walnut pedestal inside the French Fitted walnut case.
We all look forward to seeing our Buffalo Bill Colt presented and on display at the upcoming Colt Collectors Association Show In Scottsdale, Arizona...October 5 - 8.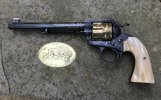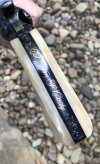 Last edited: