Joined

Oct 4, 2017
Messages

4
Thank you to everyone in this group for providing such amazing knowledge, I come back often to learn from all you masters! Ive taken a bigger course at GRS with Todd Daniels and plenty of Sam's awesome video tutorials on his website I highly recommend.
I have done only a small amount of engraving mostly on silver, this year I dove deep into sculpting titanium to further improve my sculpting abilities.
All your feedback is greatly appreciated as I am mainly focused on improving my skills!
Thank you all
Here is my first attempt at sculpting titanium.
This design was inspired by my cat purring
This was also my first time trying gold overlay/partially inlayed, still finding the best way to make teeth to receive the gold for this kind of work.
Second image is an attempt at both sculpting and anodizing the design, this one is my take on Vincent Van Gogh's famous painting "Starry Night"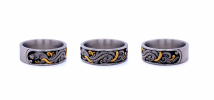 Last edited: